We are experienced Rabbit Vets.
Alphington & Fairfield Vet
Rabbits are gaining in popularity as pets, particularly in the inner suburbs! Its important to have a veterinary team that know bunnies to help you and your furry friend get the most out of life together! We have a very experienced team who love bunnies and all their unique little quirks. Our clinic staff alone have 8 rabbits between them and understand the importance of these fuzzy family members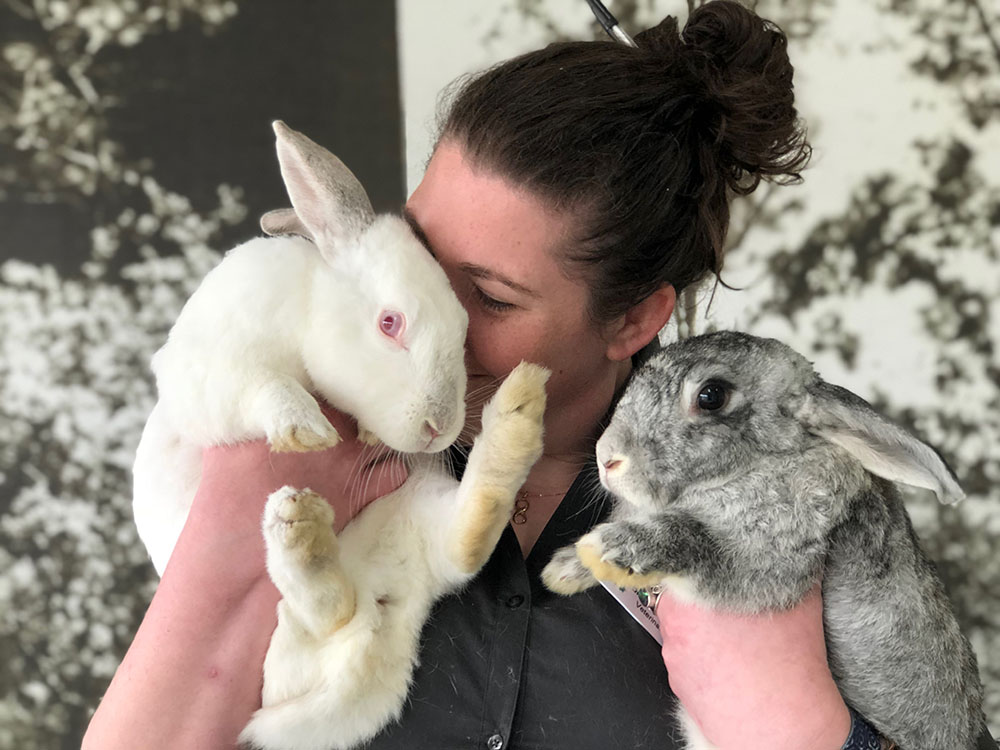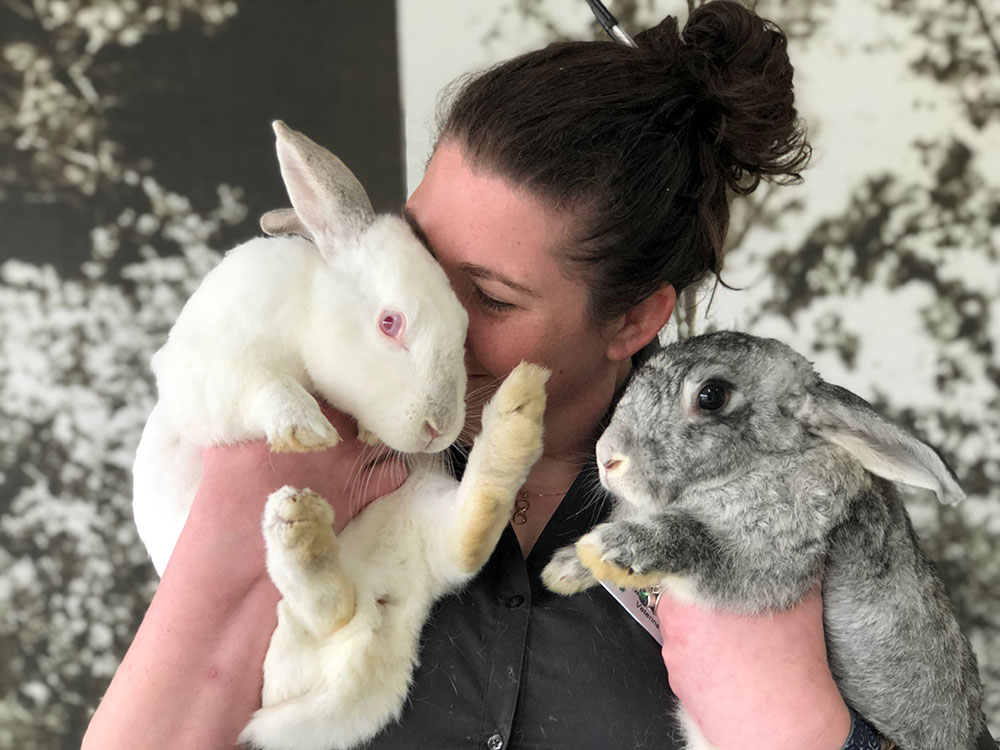 Why You Should Visit an Experienced Rabbit Vet
Due to their unique physiology, rabbits require a gentle experienced hand to perform their anaesthetics and procedures.
Few veterinary practices are equipped for the surgical requirements of rabbits. Our practice is prepared for all types of lapine surgical procedures, including; diagnostic imagery, intubation, and pain management.

As prey-animals rabbits are great at hiding symptoms of illness or injury. This can make it tricky to spot problems before they become serious. An experienced rabbit veterinarian is better equipped to spot problems before they become life-threatening.
Meet Louise.
Louise is our experienced rabbit vet!
Her love for rabbits extends all the way back into her teenage years, leading into her now professional interest in rabbit health. She has extensive experience working with rescue rabbits with organisations including the RSPCA.
When not working at Alphington & Fairfield Vet, she can be found cuddling and caring for small rabbit army at home!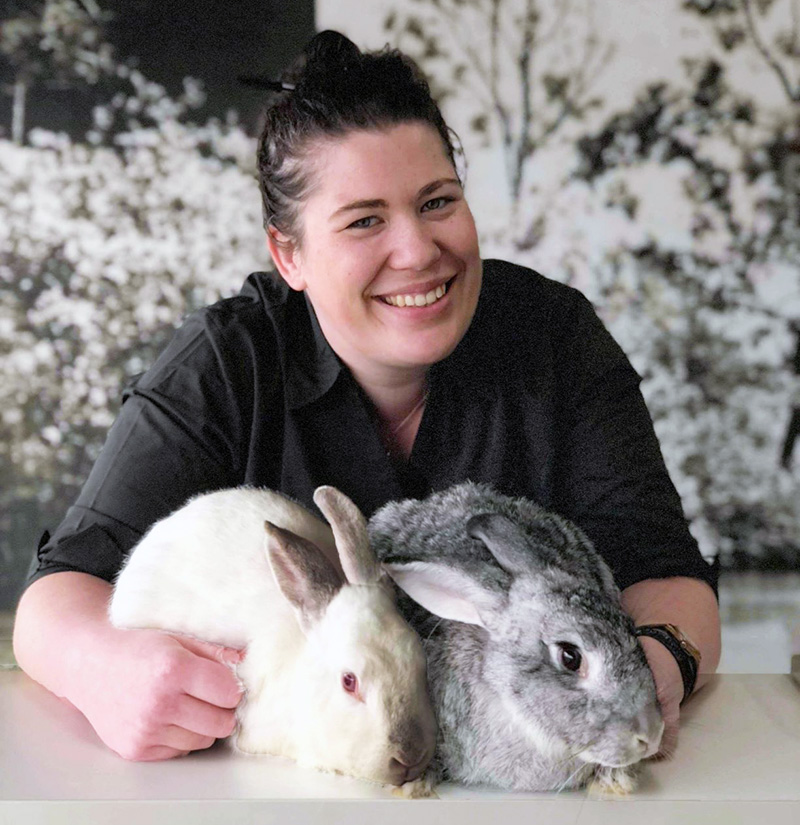 Rabbit Health Checks
We recommend that you bring in your rabbit(s) at least twice a year for a health checkup to keep them in tip top shape!
Rabbit Dental Checks
Healthy teeth means a healthy rabbit! Our services include:
Malocclusion assessment and management

Abscess treatment and management

Dental x-ray and Surgery
Rabbit Diet and Gastrointestinal issues
A good diet is crucial to a long life. Come see us for any issues concerning your best friend's diet.
Female Rabbit Desexing
Help reduce aggression and prevent uterine cancer, which affects 60-80% of female rabbits over 4 years of age whom are not desexed.
Male Rabbit Desexing
Eliminate the risk of testicular cancer, prevent perineal dermatitis as they age, and reduce aggression and spraying.
Grooming and Nail-Trimming
We groom all types of rabbits, including long haired ones! Remember that regular nail trimming helps keep your rabbit happy and healthy.
Eye and Ear Issues
Including weepy eyes and ear infections.
Skin Disease and Parasite Issues
Certain dog and cat products are toxic to rabbits. Chat with us to learn about what is appropriate for your rabbit!
Geriatric Care in Rabbits
Helping to transition into the senior world.
How We Cater to Rabbits in the Practice
We always examine rabbits on the ground so that feel more comfortable and are at less risk of injury.

We let rabbits get comfortable with the consult room before beginning the examination.

We are able to perform dental x-rays for rabbits, as well as provide radiology and blood tests in-house.

We are equipped for rabbit-specific anaesthesia delivery, which greatly reduces the risk to your rabbit during surgery.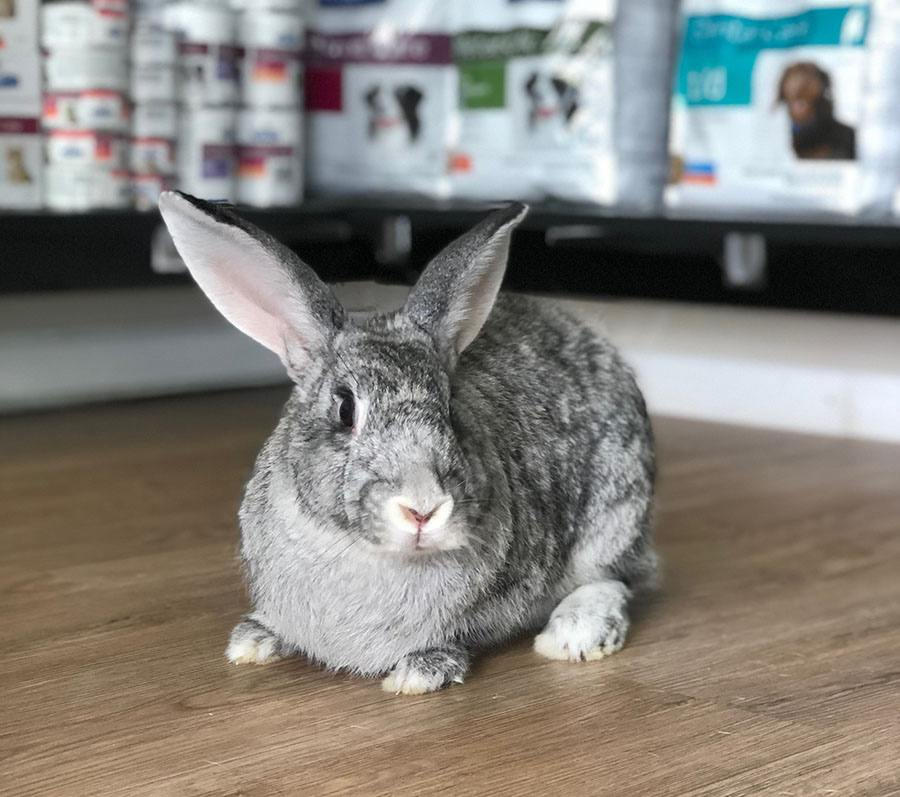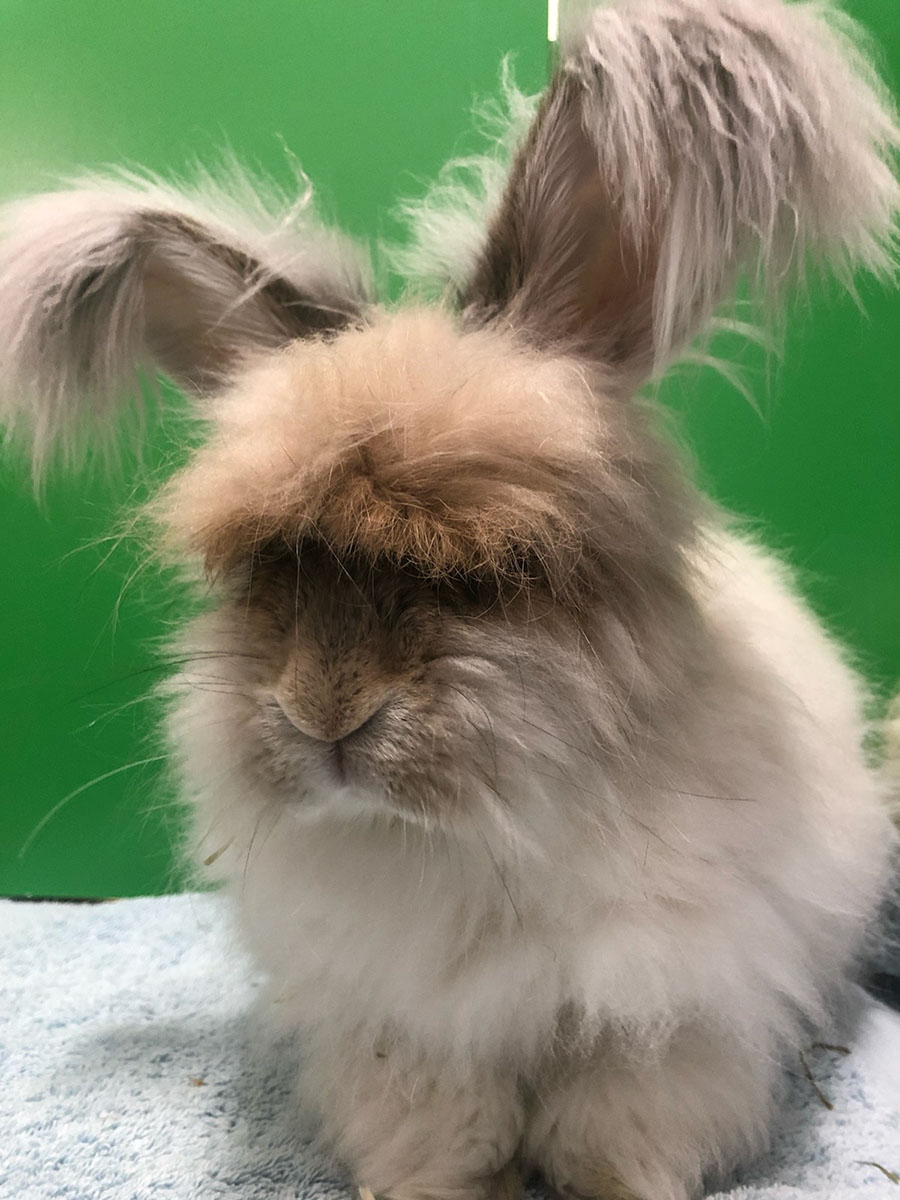 Why Rabbits Make Great Pets
A great option for apartment living, they take up very little space, and don't create a lot of mess.

Very easy and economical to feed.

Have very reasonable care requirements, which is perfect for people with busy lives.

Are quiet and generally well-behaved.

Rabbits 

can be confined when you are not home to supervise

Rabbits are great for gardeners as a source of excellent fertilizer.

Eat a purely vegetarian diet.
"Louise has been our rabbit vet for the last few years and she has been absolutely amazing. We've gone through multiple medical conditions and throughout it all Louise has provided outstanding care for our rabbits with her extensive knowledge and kindness. She goes above and beyond to help our rabbits and we wouldn't take them anywhere else"
Contact Us
Alphington & Fairfield Vet
Our team of professionals are here to help make pet care easy. If you have any questions or concerns about your pet's health, don't hesitate to get in touch. We love talking about animals and we're more than happy to help! If you would like to make an appointment you can book online or give us a call to arrange a suitable time.
Opening Hours
Monday - Friday: 8.00am - 6:30pm
Saturday: 9am - 3pm
Sunday: Closed
Address
138 Wingrove Street, Fairfield VIC 3078